Our Donors and Funding Partners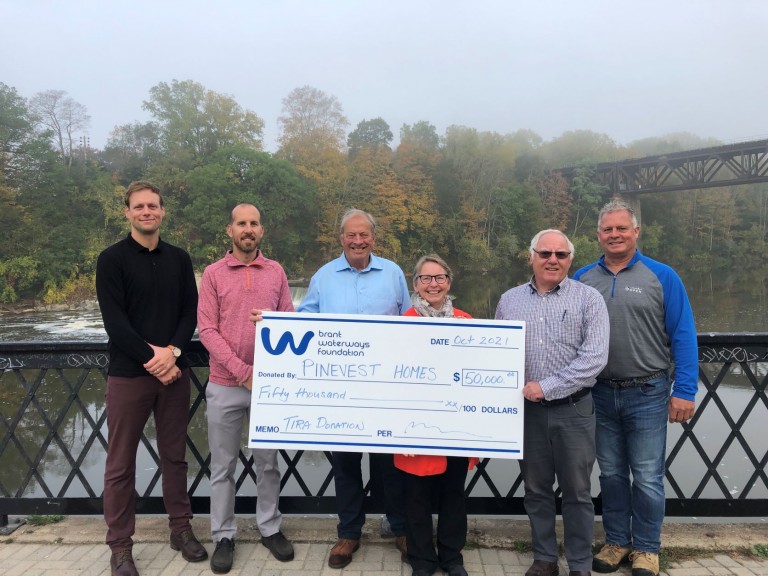 Brant Waterways Foundation's strong relationships with its generous donors and funding partners are essential to the success of the projects we support and the impact they have on our local communities in Brantford, Brant Count, and Six Nations of the Grand River. Simply put, we couldn't do what we do without them! 
We are pleased to recognize the financial support of our benefactors, supporters and friends
TIRA Donors
Brant Tree Coalition Donors
2022 Gala Donors
Annual Donors
In Memoriam Donations
TIRA Donors
To date our Trails Improvement & River Access (TIRA) campaign has raised more than $500,000 for game-changing projects that will protect our ecosystems, promote first-class outdoor recreational opportunities and improve the health and well-being of people in Brantford, Brant County and Six Nations of the Grand River. We recognize and thank all our generous and visionary donors.
LEGACY PARTNER
Paul and Margot Williamson
Waterous Holden Amey Hitchon LLP
HERITAGE CHAMPION
Pinevest Homes Inc.
G .MacDonald Family Fund
WATERSHED GUARDIAN
Millards Chartered Professional Accountants
TRAIL BLAZER
Brant Aero
Brant Industrial Warehousing
Brant Star Developments Ltd.
J.H. Young & Sons Ltd.
John Hall & Margot Neill
Harry Leach
Mike Yarek Dodge Chrysler
MMMC Architects
Kim & Bernard Neziol
Duncan Ross
PATHFINDER
Dr. Willem Bouma
Ed & Shelly Doucet
Margaret Fanjoy
Marie Fanjoy & Craig Mann
Stephanie Hermans
Macauley White & Muir
Mott Manufacturing
James McCracken
Reynolds Custom Machine
Jeffrey & Catherine Rice
Brian Smith & Janet Crook
Colleen & John Stolp
Paul & Brigitte Tinevez
Sheila Turner
Bruce Wells
Brant Tree Coalition Donors
2022 Gala Donors
Annual Donors
In Memoriam Donations